Tesla's Battery in South Australia is Delivering Stunning Numbers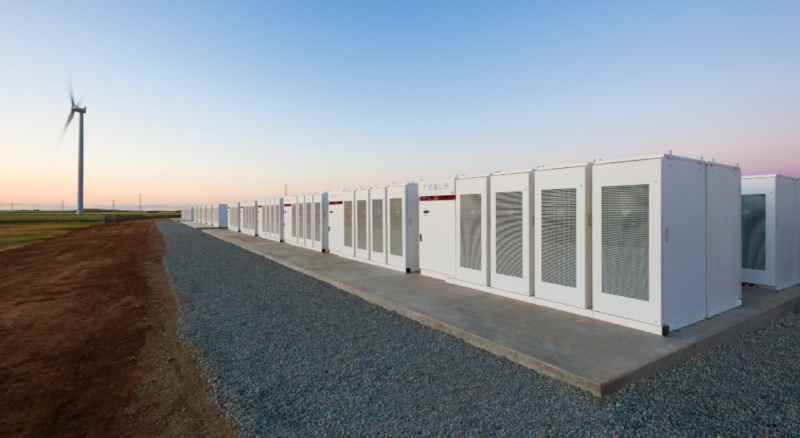 The Tesla big battery in South Australia has already taken a 55% share in the state's frequency and ancillary services market and lowered prices in that market by 90%, new data has shown.
The stunning numbers on the economics of the country's first utility-scale battery were presented at the Australian Energy Week conference in Melbourne on Thursday by McKinsey and Co partner Godart van Gendt.
Speaking as part of a panel on the leading technologies and strategies that will help manage the transition to renewables in Australia, van Gendt said the data was more evidence that battery storage would "play a very big role."
He said that a lot of discussion around the success of the big battery – the biggest of its kind in the world, and delivered at break-neck speed – had focused on the fact that "we did it," and not on the economics.
"So, I thought I'd give you a few numbers from the market data," van Gendt said.
"In the first four months of operations of the Hornsdale Power Reserve (the official name of the Tesla big battery, owned and operated by Neoen), the frequency ancillary services prices went down by 90%, so that's 9-0 per cent."
Van Gendt's calculations are just the latest in a series of assessments that show how the Tesla battery – despite being mocked by detractors for its small size compared to the overall grid – is having an impact on the market.
Various estimates have put the cost savings to consumers from the FCAS market alone at around $35 million, just in the first four months of its operation.
That's a pretty good bang for the buck for the estimated $50 million investment by the South Australia government. South Australia is the only state that has experienced a decline in FCAS prices over the past few months.
The fact that the Tesla big battery has been able to puncture the FCAS pricing bubbles created by the gas cartel illustrates how even small additions to capacity – and new dispatchable technologies – can change the equations and market dynamics.