World's First Floating Wind Farm Exceeds Expectations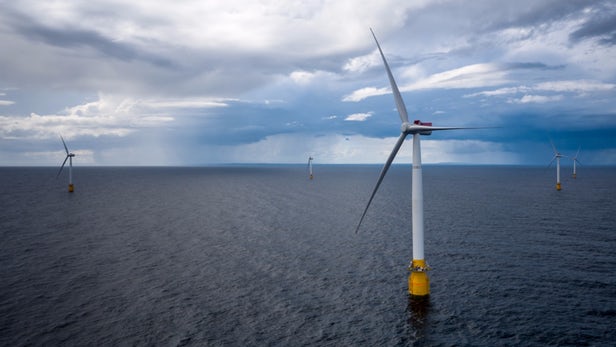 The world's first commercial-scale floating wind farm performed better than expected in its first 3 months of operation. The 30MW Hywind Scotland is operated by Statoil and is located about 15 miles offshore Aberdeenshire, Scotland.
Mother Nature didn't go easy on the turbines in their first 3 months. They had to weather one hurricane, a strong winter storm, and waves that were estimated between 26-30 feet high. Still, the wind farm was able to produce above expectations.
The wind is at its strongest during the winter in the Scotland region. A typical capacity factor for a bottom fixed wind farm is 45-60%. By comparison, the Hywind Scotland achieved an average of 65% during November, December, and January. Statoil believes they can improve this efficiency with more innovation and a little better weather conditions.
"We have tested the Hywind technology in harsh weather conditions for many years and we know it works. But putting the world's first floating wind farm into production comes with some excitement. Therefore, it is very encouraging to see how well the turbines have performed so far. Hywind Scotland's high availability has ensured that the volume of electricity generated is substantially higher than expected. In addition, it has delivered without any HSE incidents," said Beate Myking, senior vice president of offshore wind operations in Statoil.
Hywind Scotland first encounter inclement weather when hurricane Ophelia hit the area bringing 80 mph winds in October. Next was winter storm Caroline in early December bringing 100 mph winds and waves as high as 30 feet.
While the wind turbines were shut down briefly for safety reasons during the strongest gusts, they resumed operation immediately after. A pitch control sensor is installed in every turbine to adjust the angle of the turbine's blade during the strongest of winds.
With an estimated 80% of offshore wind resources globally in deep water (+200 feet) where bottom fixed solutions are not viable, there is great potential for floating wind warms around the world. Statoil is currently looking to reduce energy costs from Hywind Scotland to make it more competitive with other renewable energy sources.