Company Launches New Drone Platform for Energy Industry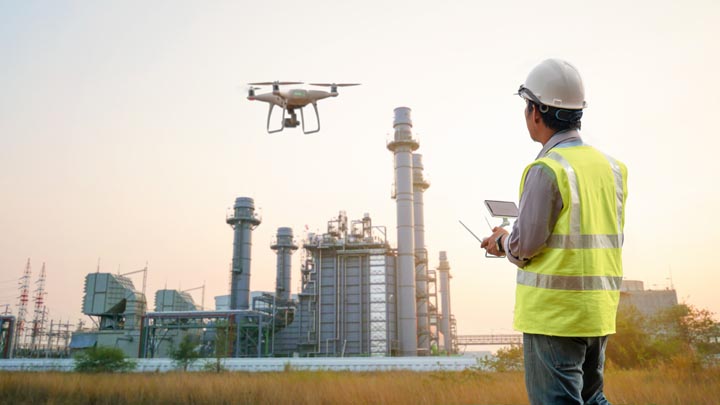 The breakneck speed at which digital and technological advances are appearing has provided so many efficiency and productivity tools for business and industry that executives and managers can be hard-pressed to keep up with those that might benefit their organizations. Data-driven businesses have given rise to new data analysis paradigms, and even hardware improvements in technology, such as robotics, are bringing a tsunami of solutions to the market every year.
Last week, a leading provider of Unmanned Traffic Management (UTM) solutions—better known to lay persons as drones—announced the release of a comprehensive Unmanned Aircraft Systems (UAS) solution for the energy industry. This utility is designed to help energy organizations in the planning, scheduling, operation, and monitoring of all facets of their UAS operations from a single platform.
UAVs Play an Increasing Role in Operations
All of the energy industry sectors—solar, wind, oil, and gas—rely on frequent inspections to maintain standards and keep critical equipment running safely and efficiently. Those inspections can take enormous amounts of time and money (in paying skilled personnel to perform inspections) because the venues cover large areas within facilities and can involve dangerous procedures.
In recent years, Unmanned Aerial Vehicles (UAVs) have been increasingly relied upon to perform many of these tasks. According to one drone industry supplier to energy companies, "With drones flying overhead utility sites, damage on everything from wind turbines to solar panels can quickly be identified, preventing potential problems before they grow. With the information collected by a drone, abnormalities and damage can be quickly pinpointed, progress can be monitored, and everything from orthomosaics, to elevation data, and 3D maps can be created."
AiRXOS, a subsidiary of GE Aviation, announced the release of their new Enterprise Energy Solution, a platform providing "digital compliance, full situational awareness of airspace and assets, inspection, emergency response/disaster recovery capabilities, analytics, and asset performance tools all in one, connected platform." The EES runs on AiRXOS' Air Mobility™ Platform – "a secure, cloud-based, extensible platform that allows the easy integration of an energy organization's current applications and other UAS service suppliers, as well as supporting the full lifecycle of UAS energy operations."
Keeping Up With Tech
According to Mark Lanphear, AiRXOS' Senior Vice President of Global Sales and Business Development, "Infrastructure inspections with traditional manned aircraft are dangerous, inefficient, and expensive. Now, more than ever, energy organizations are looking for solutions to help them deliver safe, scalable, and repeatable operations for greater economic viability."
To achieve these objectives, energy companies need a centralized and standardized view of all operations, manned, and unmanned, which is why AiRXOS developed the EES.
AiRXOS' EES allows companies in energy sectors to integrate all of their key inspection needs in one connected system with automated and feature-rich technology and capabilities. The company's Air Mobility™ Platform (which supports the EES) is a highly secure, cloud-based platform that enables energy organizations to plan, schedule, and monitor all areas of UAS operations.
Better Service, Safety & Lower Energy Bills
AiRXOS "enhances UAS operations efficiency with the development of solutions, supporting processes, training, and procedures to enable advanced UAS flights and help energy organizations obtain the necessary FAA Waivers, Exemptions, and Certificates of Authorizations (COAs), Special Governmental Interest (SGIs) to perform inspections faster," according to the marketing literature. A Central Command Center provides for centralized public safety agency coordination, situational awareness of UAS operations, streaming live video, data and operational insights, automated SGI compliance, tracking and reporting, and optional media and public advisory alerts.
Traffic management systems such as those being pioneered by AiRXOS are needed to support unmanned aircraft on large energy installations, much like the air traffic management system currently in place for manned aircraft. In addition to improving the efficiency of inspection processes and worker safety, streamlining these areas will translate into a more robust bottom line for energy companies, and lower energy rates for consumers over time.