What Those Holiday Lights Will Cost You Over the Season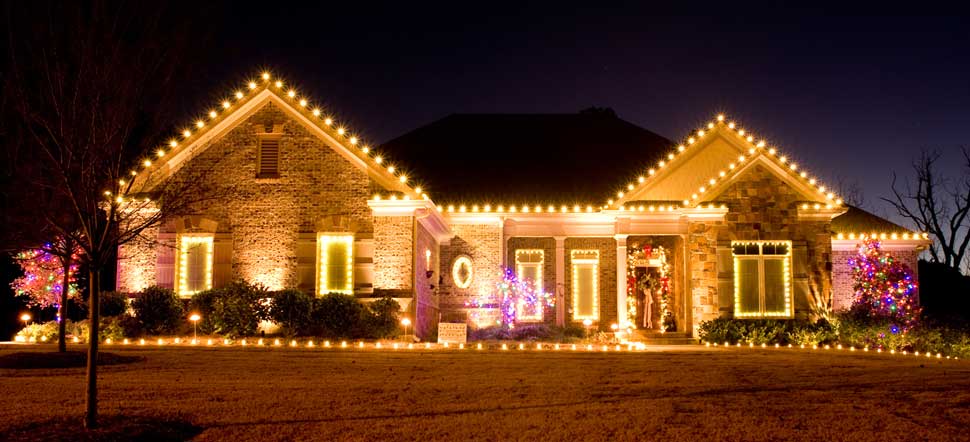 For many Americans, this is the week we put away the Thanksgiving decorations and pull out the festive holiday lights. We string them up from our house, garage, windows, trees and even throughout the interior of our homes. Some even have amazing animated light shows that sync with holiday music. The world uses so many holiday lights that they can be seen from space. For many, the electricity used to run these lights is worth it no matter what the cost. But, just in case you were wondering, we have some estimates for how much these lights will run up your electricity bill and ways to save.
Many people hold on to their lights for years and think they are getting a great return on investment. However, those old incandescent holiday lights aren't paying for themselves. A string of just 25 of the large bulb incandescent lights uses 175 watts of electricity to run. Assuming you run these lights for 12 hours per day for 45 days at the national average electricity rate, these lights will cost you over $15 per string of 25 light bulbs.
Now, if you were to invest in some LED lights of the same size, the cost would be much less. A string of 25 large LED holiday lights only uses 2.2 watts of electricity to run. That means that over the same period, LED lights would cost almost $14 less per sting of 25 lights on average. Also, LED lights last longer and would be a better long-term investment.
Based on the national average, consumers would need 237 watts of LED holiday lights to cover their trees and houses.  That comes out to $9 total electricity usage for a 45 days holiday season. By comparison, consumers would need 2,800 watts of incandescent lights to cover the same area. That comes out to $105 of electricity usage for the holiday season. So while you may save a little up front by going with incandescent lights, you will be paying for it on your electricity bill each month.
Keep in mind that your holiday lights longevity depends on the quality of lights you buy. A cheaper LED light from an unknown manufacturer may or may not last as long as one from a well-known brand. By purchasing quality LED lights, you can rest assured you will be set for years to come and avoid the up-front purchasing costs every year.
So, if you are looking for a "wow" factor this year you should consider switching to LED holiday lights. You could run over 15x more lights for the same electricity cost as incandescent lights. Or, you could save some money on your electricity bill by using the same amount of lights but switching to LEDs.
Happy Holidays!