Industry Group Says Pandemic Putting $35 Billion in Wind Energy Investments at Risk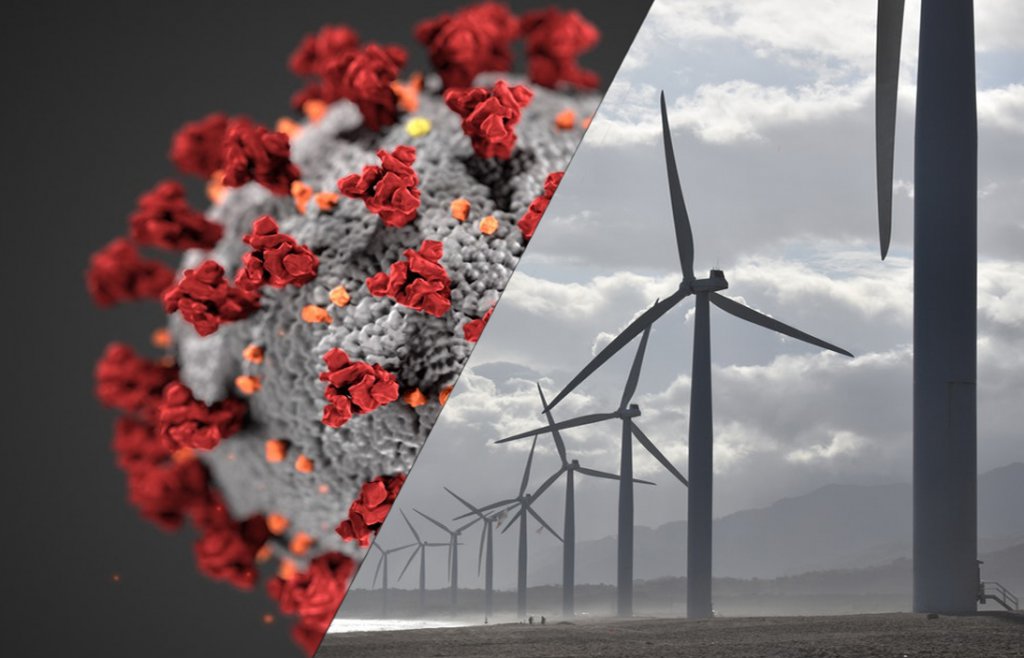 The Covid-19 pandemic is disrupting industries around the world, and that includes the renewable energy sector. With so many workers quarantined at home, experts are cautioning that corporate renewable energy demand could drop off significantly.
Solar projects linked to corporate power purchase agreements in Europe and North America could be delayed by the virus outbreak and new projects are being paused, according to industry experts.
In the United States, where federal tax credits for renewables were already going away, more than 500 solar companies signed a letter to Congress this week asking for policies to help stabilize the industry. Suggestions included passing a multi-year extension of the Solar Investment Tax Credit (ITC), and postponing the placed-in-service deadlines.
But the nearly $2 trillion stimulus package passed by the Senate last week doesn't include any relief for the renewable energy sector, as reported by Utility Dive. This has given rise to some alarm among leaders in renewable energy.
AWEA Weighs in… With Grim News
Commercial and industrial demand for renewable energy is an area of concern around the world, and this obviously includes wind power. On March 19, the American Wind Energy Association (AWEA) framed its concerns that Covid-19 will "pose significant challenges to the American wind power industry." According to AWEA, the pandemic is jeopardizing the development of approximately 25 gigawatts of wind projects, representing $35 billion in investments.
AWEA further asserted that rural communities face considerable risk, because this is where approximately 99% of wind projects are located. The AWEA estimates that rural communities stand to lose about $8 billion in state and local tax payments and land-lease payments to private landowners. In addition, it's estimated that the pandemic threatens the loss of over 35,000 jobs, including wind turbine technicians, construction workers, and factory workers.
Economic Regulatory Burdens Add to Experts' Alarm
Financial and economic regulatory factors are also adding to the alarm being sounded by leaders in the renewable energy sector. Among these is the fact that the development of wind projects is heavily reliant on tax credits. In order to qualify for the current available credits, however, developers must begin construction on their projects before Dec. 31, 2020. With local and state governments implementing various measures to stop the spread of the virus, the success of project developers' meeting this deadline is highly in doubt.
Illustrating one of the ways in which the novel coronavirus is impacting the industry, Siemens Gamesa, a global leader in the manufacturing of wind turbines, closed a second factory in Spain in March after learning that a second of its employees had tested positive for Covid-19.
According to Greentech Media, even in a recession, the corporate renewables market momentum would likely remain intact in the face of protracted social distancing and quarantines, resulting in low-cost wind and solar power, volatile fossil fuel markets, and pressure to decarbonize. However, the outlet cautioned that sagging wholesale power prices and a global recession affecting corporate creditworthiness could cause businesses to reevaluate their energy needs and postpone investment decisions.
In order to circumvent the impending calamity that these lost investments would most certainly bring to the renewable energy sector, the AWEA is turning to the government for help. In the trade association's press release, it states that "to protect the industry and these workers, AWEA is asking Congress for flexibility in allowing existing policies to continue working for the industry through this period of uncertainty."