REPORT: U.S. Solar Energy Market Expected to Grow Nearly 20% During 2020-2025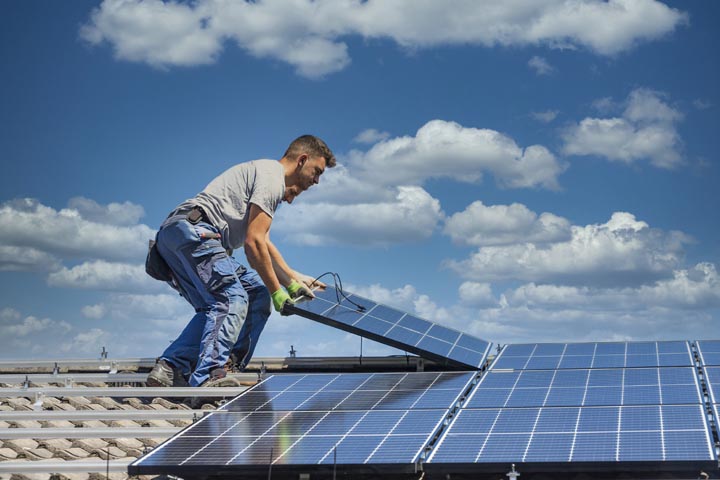 "Uncertainty" would have to be the aptest term for anything relating to energy markets in 2020. January of this year saw an emerging oil price war between Saudi Arabia and Russia which gave rise to storage gluts and threatened to drive crude prices even lower than the unprecedented lows of a year earlier. Then, the COVID-19 pandemic hit, sending energy markets into a tailspin along with everything else.
According to an analysis of Department of Labor data, More than 620,000 U.S. clean energy jobs were lost as a direct result of the pandemic, representing 18.5% of the industry's workforce. The continued job losses in May and the upcoming Paycheck Protection Program (PPP) expiration indicates it will be very tough for the clean energy sector to return to its trendsetting jobs growth without significant intervention from government agencies.
Job Losses Overshadow Encouraging Trends
The solar energy industry has been hit hard by the COVID-19 pandemic, resulting in uncertainty for everyone from top executives to installers. More than 72,000 solar workers are expected to have lost their jobs because of the pandemic. According to industry observers, a 30% decline is anticipated in the new solar photovoltaic (PV) capacity additions in 2020.
The decline in new installations can be attributed to the challenges coming about due to work being halted, permitting delays, and a decline in consumer demand. Additionally, while investors had begun to view clean energy projects with increasing favor over large fossil fuel projects, the skittishness of investors in the wake of the pandemic has made securing financing for solar projects a significant challenge.
Overcoming the Fear Factor
Looking back to 2019, U.S. PV installations increased by 24% year-over-year, with residential and utility-scale markets growing by 16% and 38%, respectively. Conversely, non-residential markets contracted by 4% in 2019. Overall, the U.S. installed 13.4 GW of new PV in 2019. "In terms of deployment, the United States witnessed a record-setting residential solar capacity addition in 2019, with more than 2.8 GW installed. In 2019, the California residential solar adoption across the country was driven by factors, such as resiliency and concerns about climate change" (Solar Energy Industries Association).
Looking ahead to economic recovery from the pandemic, however, and industry experts still see a robust rebound in the solar energy sector over the next several years. Based on data from the Solar Energy Industries Association (SEIA), solar has experienced an average annual growth rate of 49% in the last decade alone. "Thanks to strong federal policies like the solar Investment Tax Credit, rapidly declining costs, and increasing demand across the private and public sector for clean electricity, there are now more than 81 gigawatts (GW) of solar capacity installed nationwide, enough to power 15.7 million homes" (SEIA).
Considering that the market conditions which existed before the pandemic have not changed significantly in terms of overall demand and trends, experts believe that as money markets loosen, this sector will essentially pick up where it left off.
Still, the Experts Remain Optimistic
As of Fall 2019, nearly 250,000 Americans worked in the solar energy sector. This figure represents more than double the number of workers working in the solar in 2012. In 2019, the solar industry generated $18.7 billion of investment in the American economy. Additionally, the cost of new solar installations has dropped by more than 70% over the last decade, leading the industry to expand into new markets and deploy thousands of new systems nationwide.
Despite the pandemic-related job losses and uncertainty, experts maintain that the jobs will return and that the solar energy sector will thrive over the period spanning 2020-2025. Many of these forecasts are based upon earlier trends and optimism concerning the tapering-off of COVID-related economic effects.
These trends include the fact that solar has ranked first or second in new electric capacity additions in each of the last 7 years. In 2019, 40% of all new electric capacity added to the grid came from solar, and the sector's increasing competitiveness against other technologies has increased its share of total U.S. electrical generation – from just 0.1% in 2010 to more than 2.5% today, according to SEIA.