Here are the Top 4 US Solar Stocks by Market Cap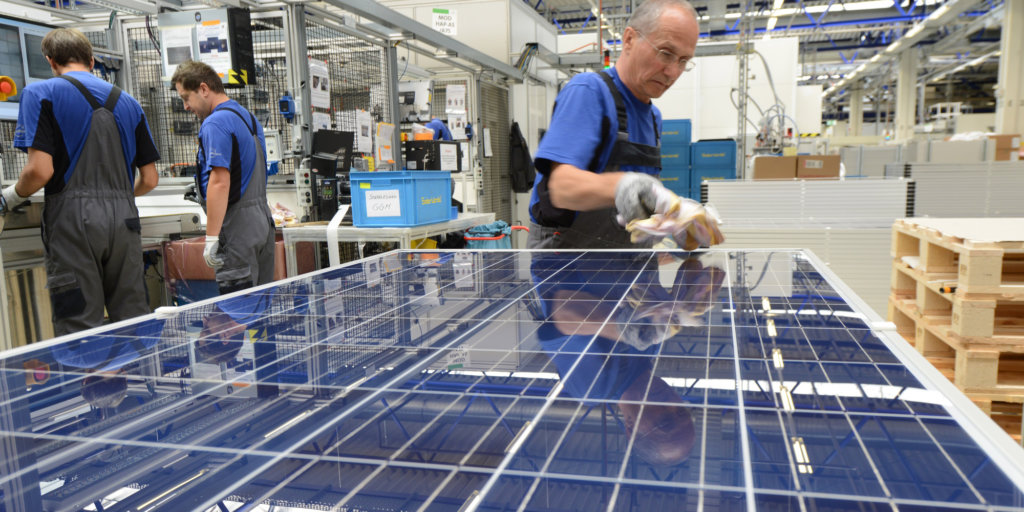 First Solar, Inc (NASDAQ Symbol = FSLR)
US Rank = 1
World Rank = 1
Market Cap (Bill) = 6.9
First Solar, Inc has been in the news lately for being involved in putting together a petition to impose a tariff on imported solar panels. President Trump signed the tariff on January 23rd and hours after First Solar, Inc stock went up 6.5%. The company was able to re-open its Toledo, OH plant in December which is now specializing in giant PV panel manufacturing. The plant is fully automated and is churning out huge solar panels in just 3 and ½ hours, compared to 3 days in Chinese factories. They have gotten their manufacturing costs down to about 20 cents/watt, about 30% less than the cheapest Chinese competitor.
SunPower Corporation (NASDAQ Symbol = SPWR)
US Rank = 2
World Rank = 9
Market Cap (Bill) = 1.0
SunPower Corporation was hit hard by the solar panel tariff imposed by the President because, although they are a US company, they manufacture their specialized solar panels overseas. The company reported huge loses and had to shut down part of their manufacturing capacity overseas. The company produces high-efficiency solar panels that cost more to manufacture and will also be hit will higher tariffs. SunPower Corporation will almost certainly apply for a presidential exemption from the tariffs due to its unique interdigitated back contact (IBC) cells, which it uses in residential and commercial applications.
SunRun Inc (NASDAQ Symbol = RUN)
US Rank = 3
World Rank = 14
Market Cap (Bill) = 0.6
SunRun Inc is engaged in the design, development, installation, sale, ownership, and maintenance of residential solar energy systems in the United States. As of December 31, 2016, it operated a fleet of residential solar energy systems in the United States, with approximately 134,000 customers across 16 states, as well as Washington D.C. The company recently announced that Eqis Capital Management purchased a new position in the company valued at $226,000. Their stock has been trending down in recent weeks due to the newly imposed tariffs and the impending shutdown of residential solar projects that are expecting to come with it.
Enphase Energy Inc (NASDAQ Symbol = ENPH)
US Rank = 4
World Rank = 20
Market Cap (Bill) = 0.1
Enphase Energy, a global energy technology company, delivers simple, innovative and reliable energy management solutions that advance the worldwide potential of renewable energy. Enphase has shipped approximately 16 million microinverters, and approximately 700,000 Enphase residential and commercial systems have been deployed in more than 100 countries. The company recently announced it sold 9,523,809 shares of the Company's common stock at a price per share of $2.10 for gross proceeds of approximately $20.0 million to an entity affiliated with Isidoro Quiroga, a prominent Chilean entrepreneur and investor.  As part of the new investment, Mr. Quiroga or his designee will be entitled to a board observer position.