Zero-Emission Hydrogen Fuel Big Rigs Coming Soon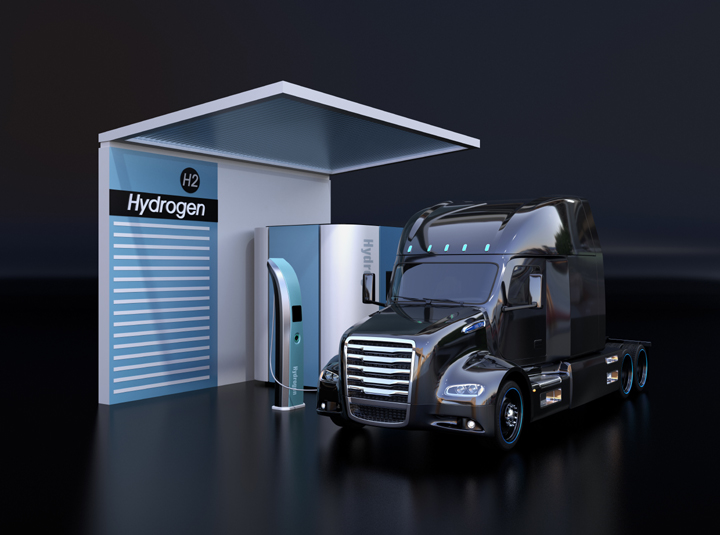 While the environment hasn't exactly dominated the news cycle over the last several months, underlying concerns remain, and businesses that were moving in the direction of eco-friendly sustainability have continued to do so.
One encouraging development has to do with one ambitious startup and several established automakers who are planning to deliver hydrogen-powered semi-trucks that will create zero harmful pollutants and emit only water vapor.
There are currently around 3.7 million heavy-duty trucks ("big rigs", in colloquial terms) that ship goods to consumers, haul raw materials across the country, and transport components for manufacturers. These have long been powered by diesel engines that emit pollution and create significant road noise—as anyone who drives anything on the road can attest.
According to a recent article in USA Today, a handful of companies say the legions of noisy, smelly diesel trucks (that nevertheless contribute mightily to commerce in our nation) will soon give way to fleets of sleek, state-of-the-art vehicles that produce nothing but "the whirl of an electric motor."
From Drawing Board to the Road
Sound too good to be true? Well, hydrogen-powered vehicles have been in the works for decades, and on the drawing boards of major vehicle manufacturers for nearly that long. Right now, these companies are hoping that after decades of development, the promise of hydrogen fuel cells will finally pay off.
Several companies, including Toyota, Hyundai, Volvo, Daimler (the maker of Mercedes-Benz vehicles), General Motors, and a Phoenix-based startup called Nikola are set to introduce their offerings in the hydrogen-powered semi-truck market.
According to Yuval Steiman, director of corporate planning for Hyundai, the quiet, low  emissions, low environmental impact, and low noise are "really great benefits just for the person that sees [heavy trucks] on the road today." His company recently projected there will be 12,000 hydrogen trucks on the road in the U.S. by 2030. Although this will represent less than 1% of heavy-duty trucks on the road, it's a start.
How Do They Work?
Hydrogen-powered vehicles run on electricity created through on-board fuel cells that generate zero emissions. According to the article, for many years "the technology made theoretical sense, yet a lack of hydrogen fuel pumps largely limited its reach. But advancements in hydrogen technology and an emphasis on beginning the technological rollout with heavy-duty trucks instead of cars are beginning to make fuel cell vehicles a reality."
According to research firm IBISWorld, the stakes for the truck manufacturing industry are high, with this sector projected to have $27.5 billion in 2020 revenue, employ more than 25,000 workers and pay $1.7 billion in wages. "A shift in powertrains could require the industry to overhaul how it sources components, hires workers, and meets regulatory standards," according to the firm.
Nikola: The New, U.S. Offering in Hydrogen-Powered Rigs
Phoenix-based Nikola, the U.S. startup weighing into the fray, raised eyebrows this year by arranging a deal to go public and reaching a tentative manufacturing and technology partnership with General Motors. The company has promised to deliver two hydrogen-fueled heavy-duty trucks, the Nikola Two and the Tre, within the next few years. In 2017, Nikola founder Trevor Milton told USA Today that "diesel trucks would no longer be available for sale within 10 years."
According to USA Today, Nikola has faced increasing skepticism in recent months amid questions about the legitimacy of its plans, leading to concerns that it may not finalize its deal with GM. Despite its troubles, however, "Nikola's emergence has reminded automotive industry observers of how Tesla exploded onto the automotive scene more than a decade ago, promising new electric-vehicle technology and pledging to revolutionize transportation."