AI and Smart Tech's Emerging Role in Clean Energy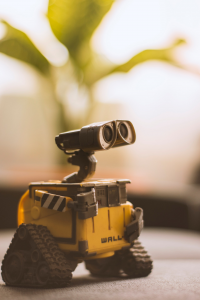 What functions will AI (artificial intelligence) and Smart Technology have relative to the clean and renewable energy sectors? A better question might be: What functions won't AI (artificial intelligence) and Smart Technology have relative to the clean and renewable energy sectors?
What this means is that AI and Smart Tech—technologies that haven't yet come into their own—are already making a name for themselves in a number of diverse industries.
If this is any indication that AI and Smart Tech will be a force to be reckoned with, the Department of Energy's (DOE) brand-new artificial intelligence arm named a director this month to oversee its development, coordination, and application of these emerging technologies. The new director will head the Artificial Intelligence & Technology Office (AITO), which was established in September of last year to form public-private partnerships supplying data and expertise.
According to DOE, AITO aims to accelerate the development of hardware and software in support of DOE's various programs.
Background and Description
Artificial Intelligence uses stacks of data and enhanced algorithms collected from the source to offer machines and systems with the capability of perceiving, thinking, calculating, and analyzing data the same as the human brain. In addition to this, implementing application-based AI platforms offers real-time insights into industrial applications, thus elevating the system's efficiency to meet the requirement (brandessenceresearch.com).
As far as Smart Tech goes, "smart" has become something of a marketing buzzword, but beyond the hype, what is smart tech?
An article on Medium.com lays out the three basic types fairly well:
Smart devices have some automation and can be easily programmed through an intuitive user interface. Think of a smart coffeemaker that you program to make coffee at a certain time. Network connectivity is not needed.
Smart connected devices are remotely controlled or monitored via Bluetooth, LTE, Wi-Fi, wired or other means of connectivity. Examples would be a smart bulb, smart security camera, smart refrigerator or smartphone.
IoT devices are software-defined products that are a combination of product, application, analytics and the Internet/networking. They create more value than smart or connected devices. That's because they are more scalable, upgradable, automated and future-ready. Think of smart cities, smart factories and smart homes.
As tech aficionados are probably already aware, the potentials for AI and Smart Tech in the marketplace are nearly limitless. While most people at this point have been exposed to elements of these technologies in their smartphones, cars and newer appliances, fewer are aware that AI and Smart Tech are poised to revolutionize the new homes sector, an area most likely to impact consumers in the coming decades.
From Home to Office to… the World
In understanding the scope of how AI and Smart Tech are impacting the clean and renewable energy sectors (and will continue to do so for some time), it is important to understand who the key industry players in artificial intelligence are. Not surprisingly, the major players included in the global artificial intelligence in energy market forecast include companies like Microsoft Corporation, IBM Corporation, Amazon Web Services, Inc., Intel Corporation and other major tech companies.
According to the recent global artificial intelligence in energy market forecast, artificial intelligence in energy market key market segments include the oil & gas industry and the power industry at the top of the list. The latter, of course, includes clean and renewable energy sectors. Renewable Energy Management is included as a sector that is expected to benefit greatly from the advent of AI and Smart Tech.
Examples of how AI is beginning to impact industries are just a click away on most people's news feed these days, and the clean and renewable energy sectors are no exception. Just this week, it was announced that a team of researchers from Stanford, MIT, and Toyota had cut the battery-testing times for electric vehicles by a factor of 15 using AI. Other news sources are covering everything from how AI can help manage power grids to how 3D printing can help companies involved in renewable energy by streamlining the energy supply chain, offsetting costs and pow