Marine Energy: What is it, and How Can it Help to Fill Energy Gaps?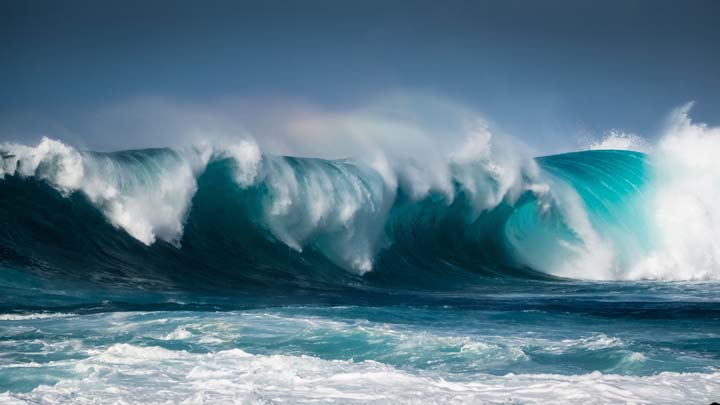 Marine energy has huge potential to assist in the international drive to lower reliance on fossil fuels and move towards a low carbon future through the use of its abundant marine renewable energy resources. Marine energy involves harnessing the energy from the sea— including waves, tidal streams, and tidal range—to generate electricity.
Marine energy technologies are at an early stage of development, however, due to the challenges of generating power from a dynamic, low-velocity, and high-density resource while withstanding corrosive marine environments. These challenges are intensified by high costs and lengthy permitting processes associated with this power paradigm.
Overcoming the Challenges
Despite the challenges, owing to the falling costs of renewable energy overall and the increasing commitment of governments and commercial organizations to the energy transition, marine energy is on the cusp of significant growth.
In a new report titled Commercialization Strategy for Marine Energy, the National Hydropower Association of America unveiled bold new industry deployment targets. Calling on the U.S. Federal Government to aid in accelerating the commercialization of marine energy technologies (wave, tidal, ocean current, ocean thermal, and riverine), the organization plans to see marine energy providing 50 megawatts (MW) of electricity by 2025, 500 MW by 2030, and 1 GW by 2035. The association is asking for increased financial support from the federal government for research and development, reducing market barriers, and creating financial incentives for technology deployment.
According to Malcolm Woolf, NHA's President and CEO, "Marine energy could be the missing link for meeting our nation's clean energy goals and decarbonizing our electricity grid, which is why, as an industry, we are setting the bold and achievable deployment target of 1 GW by 2035. Today, there are marine energy devices in the water that are proving the viability of the technology as a climate solution. A strong commitment from the federal government is needed to accelerate commercialization, as global competitors are benefiting from significantly higher government incentives dedicated towards research, innovation, and early commercial activities."
Realizing Untapped Potential
In March, a U.S. Department of Energy's analysis identified the potential of marine energy resources in the U.S. Utilizing data from national and state sources, the report found that the total marine energy technical resource in the 50 states to be 2,300 TWh/yr—equivalent to around 57% of 2019 U.S. electricity generation. Inlay terms, this would be enough to power 220 million U.S. homes.
The NHA report calls for federal support to 1) increase funding to advance research and testing, 2) create innovative incentives to facilitate rapid development and deployment, and 3) establish a clear and predictable regulatory framework for testing and demonstration projects.
Throughout the U.S., marine energy developers have been quietly demonstrating the viability and potential of new power generation devices. "We believe that the marine energy industry is poised for gigawatt-scale deployment in the United States," said NHA's Woolf. "The surge in deployments of natural gas, wind and solar over the last decade happened after extensive federal support helped drive cost competitiveness." With a commitment from the federal government, Woolf says that marine energy can follow a similar trajectory while helping to realize the current administration's target of achieving 100% clean electricity by 2035 a reality.