Location: Rockford, IL
Rockford is the largest city in Illinois outside of the Chicago metro area. The estimated population of Rockford, IL is 152,201 and is located in the northern part of the state. Due to its geographical region, Rockford residents typically experience harsh winters and very warm summers. The creates a high demand for electricity in the area, especially in the winter months. Rockford residents have been able to shop their energy supply rate since 1997 when Illinois passed their energy deregulation law. For more information, see the graphs below on Rockford energy usage, source, solar and rates.
Check Out The Latest Video on The Illinois Energy Market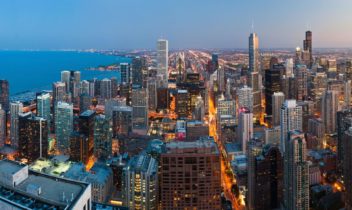 play button
Solar Score for Rockford, IL
Compare Electricity has developed a solar score for Rockford, IL residents and businesses of 37. This score is based on on a combination of factors including how much sun the area receives, roof space and obstacles that may obstruct the sun, electricity generation needed to be cost-effective, and more. Here is a description of each section of the solar score graph:
Red = "Not Viable" meaning a solar installation would not be cost-effective.
Yellow = "Viable" meaning a solar installation would pay for itself over time.
Green = "Very Viable" meaning a solar installation would pay for itself quickly and has large savings potential.
Sources for Rockford, IL
Rockford, IL produces energy from a variety of sources. Here are the state's current energy sources and energy production trends.
IL is a leading wind energy producer in the US with over 4,000 Mw installed

Illinois has the largest crude oil-refining capacity in the Midwest

Illinois has an estimated 2.5 million short tons of coal reserves

IL is home to 1/8 of all nuclear energy production in the US
Locations
Looking for a specific city in Illinois? Check out our featured cities below for more specific energy usage information.
Research
Compare Electricity is dedicated to keeping you current and up to date with industry leading research. View all the latest news, articles and videos for your location below: